Our Pricing
We know how confusing it is trying to figure out what heating solution is best for your needs and your budget.
That's why at Trust we believe that in order to help you to make the right buying decision, our prices must be explained in some detail.
🏆 The UK's Most Awarded Electric Radiator 🏆
HOW MUCH DOES THE NEOS COST?
In short, our average radiator costs around £850.
While we understand that this is a bigger outlay than an average radiator you could buy online, our radiator isn't average...
WHAT IS INCLUDED?
At the UK's Most Awarded Electric Heating Company, we manufacture and assemble our own radiators from our factory in Garforth, Leeds. With the NEOS radiator you're making a once in a lifetime investment, from our family to yours.
Our prices include:
Your NEOS Radiator(s)
Thermostats
VAT
Delivery or Installation
Removal (dependant on the current heating you have)
WHERE YOUR MONEY GOES...
So, you can see what we put into our radiators and how we function to ensure every customer is treated fairly. But you might be thinking – okay, but I want to know what I'm really paying for? What factors impact the price?

Well, we did say we were transparent...
1.
All of our Materials are Purchased within the UK: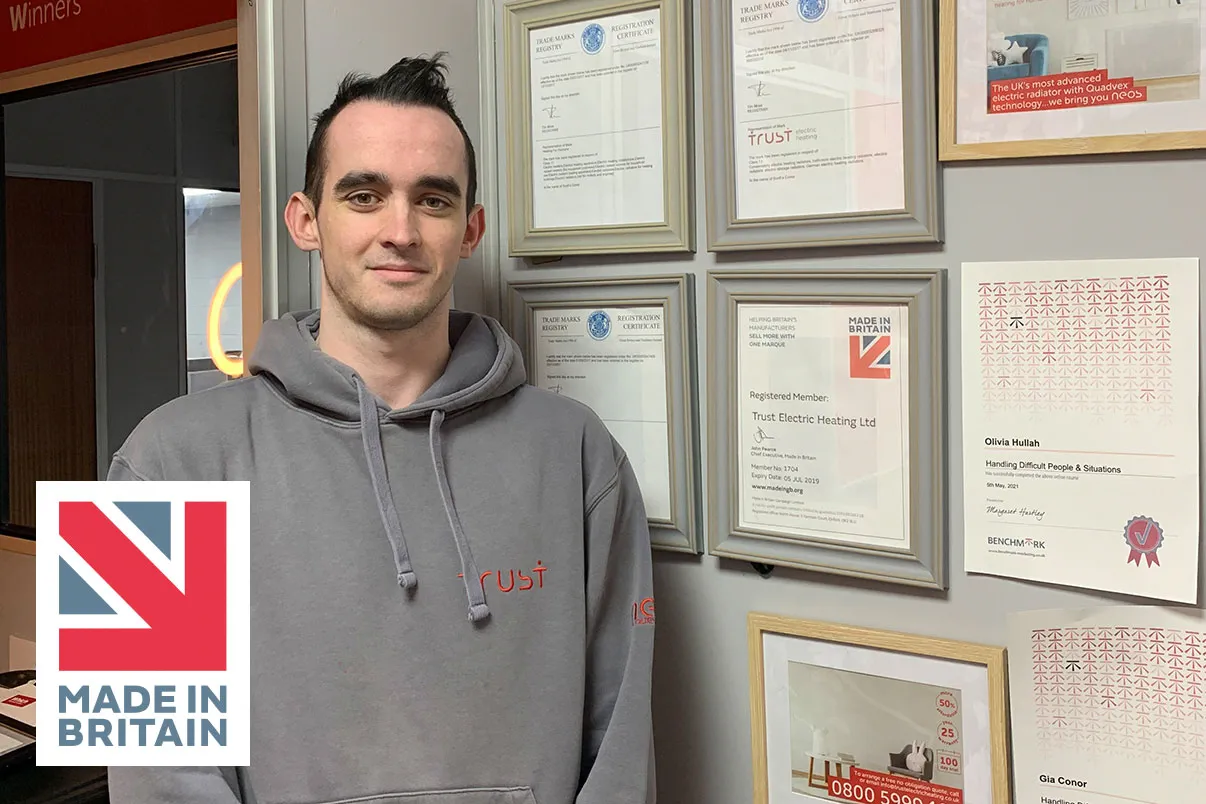 We don't buy cheap materials abroad and then inflate the prices for huge margins. We give you a quality product that has a great realistic price. We are manfuctured in good old Yorkshire, in Garforth, Leeds! We are one of the only electric heating companies in the UK with the official MADE IN BRITAIN mark!
2.
Patented Technology: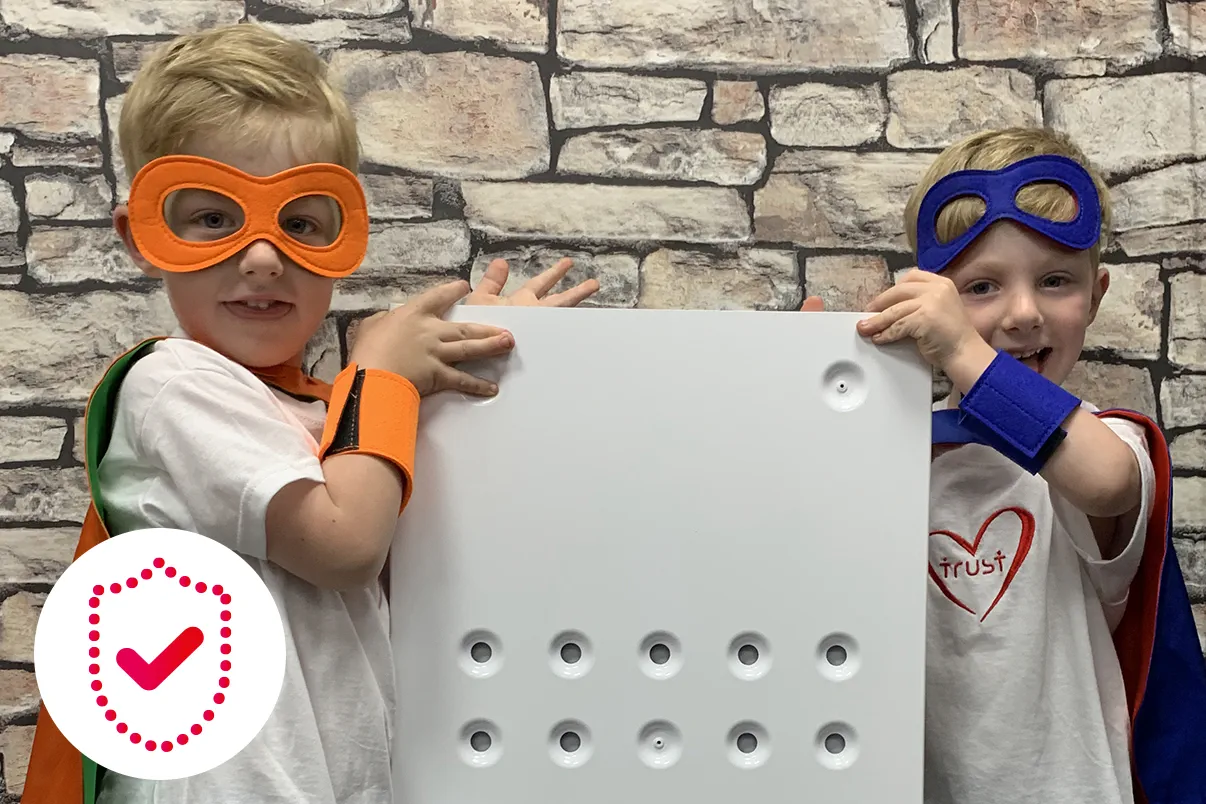 The only electric radiator with a different front panel to the back!
This patented technology eliminates heat loss into the wall and improves the way the radiator heats you & your room = lower energy bills!
3.
25-Year Guarantee: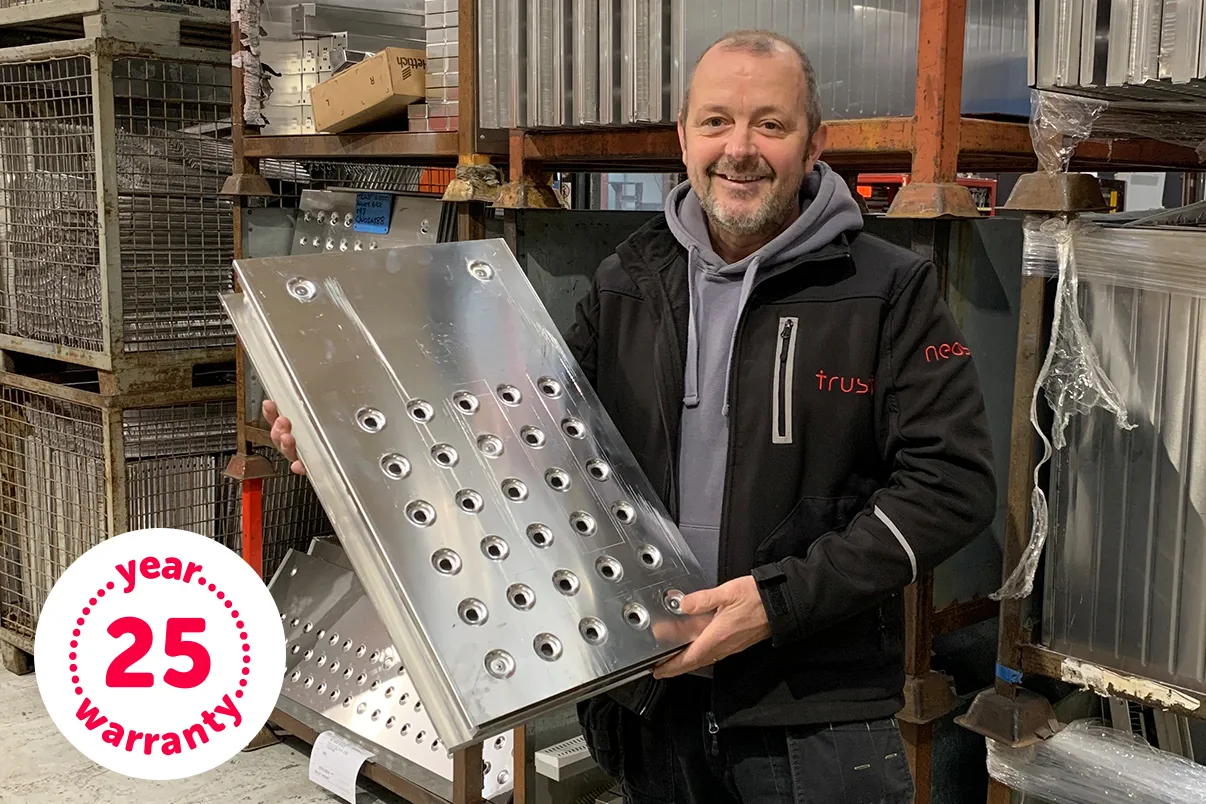 Your NEOS radiator comes with a 25-year guarantee, so you won't have to fork out for another heater for the next 25 years!
Look at the NEOS radiator as a long term investment that will bring you savings and complete peace of mind.
4.
Running Costs & Savings: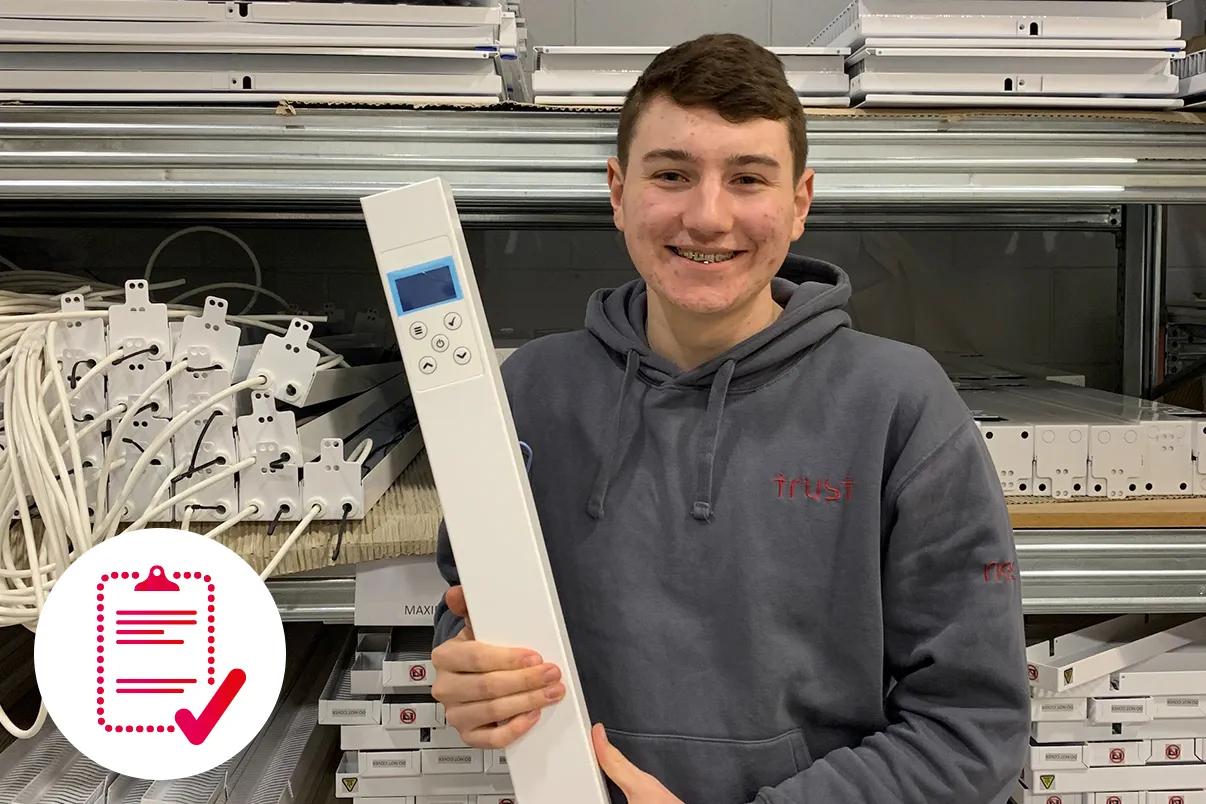 Research has evidenced that compared to leading electric heaters, in a 6hr period, we only demand 2.37hrs of electricity, compared to all others who used 6hrs! That's 59.4% reduction in energy bills
WHAT YOU GET FOR YOUR MONEY...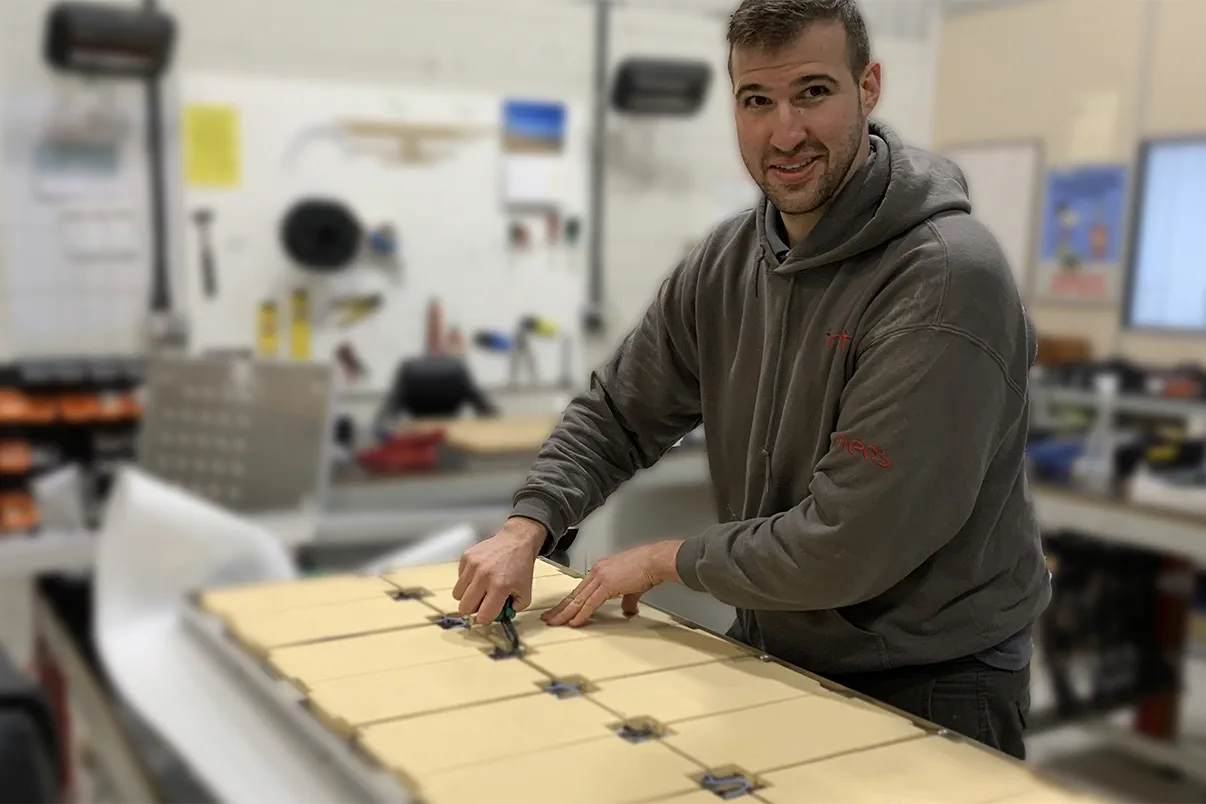 Bespoke, British made Heating solution
A British made and engineered heating solution that is bespokely made for your home, designed to reduce your heating bills.
Because we do most of our manufacturing here at Trust HQ, we have complete control over every element of the build. From the wiring of your radiator all the way to the last screw fixing onsite.
Every single radiator is made by the same team who install them - they are experts in all things radiator components!
Delivery & Installation
The installation team will come in 4-6 weeks after your purchase, or we can deliver if you want to self-install. They are known for their quick and efficient installation skills and can remove your old electric heating system – click here for their shiny reviews!
They will also give you an in-depth tutorial on how your thermostat works and even advise you on the best settings to keep your home warm, for less.
Our install team also build our radiators so they are truly experts in all things radiators, from every last little screw!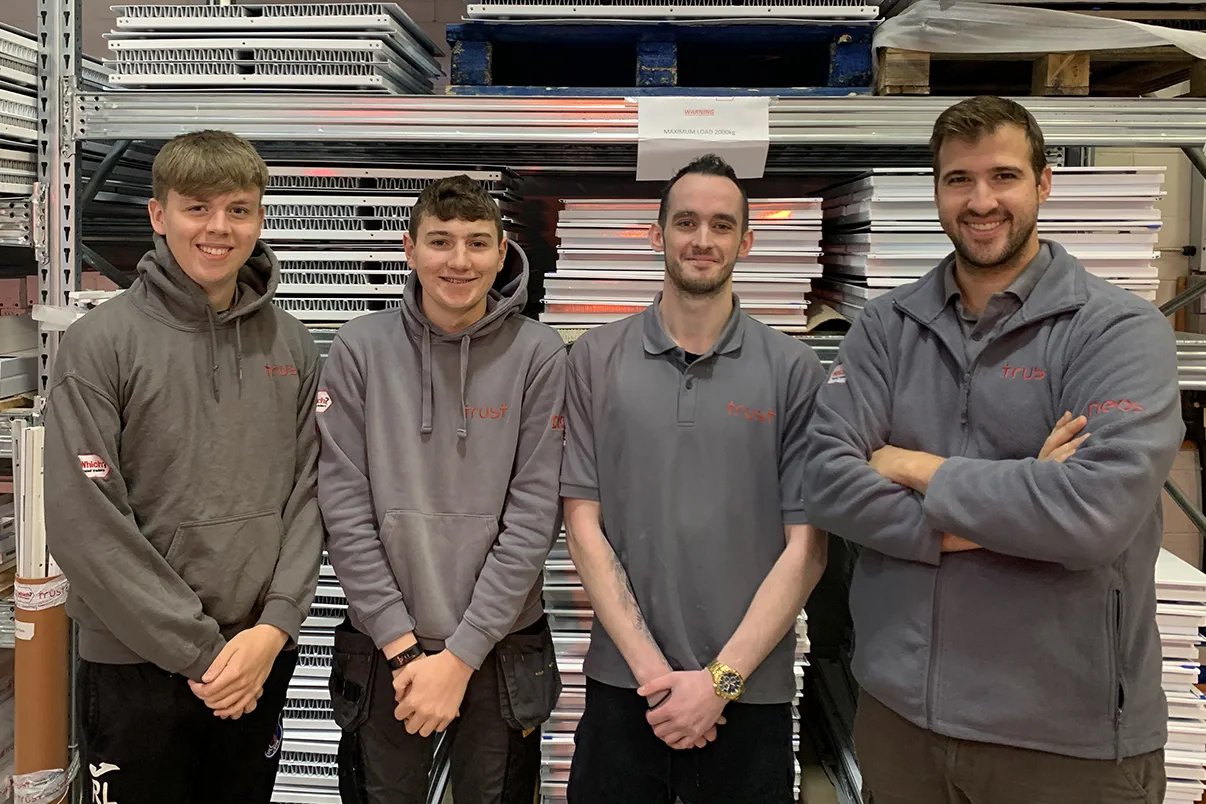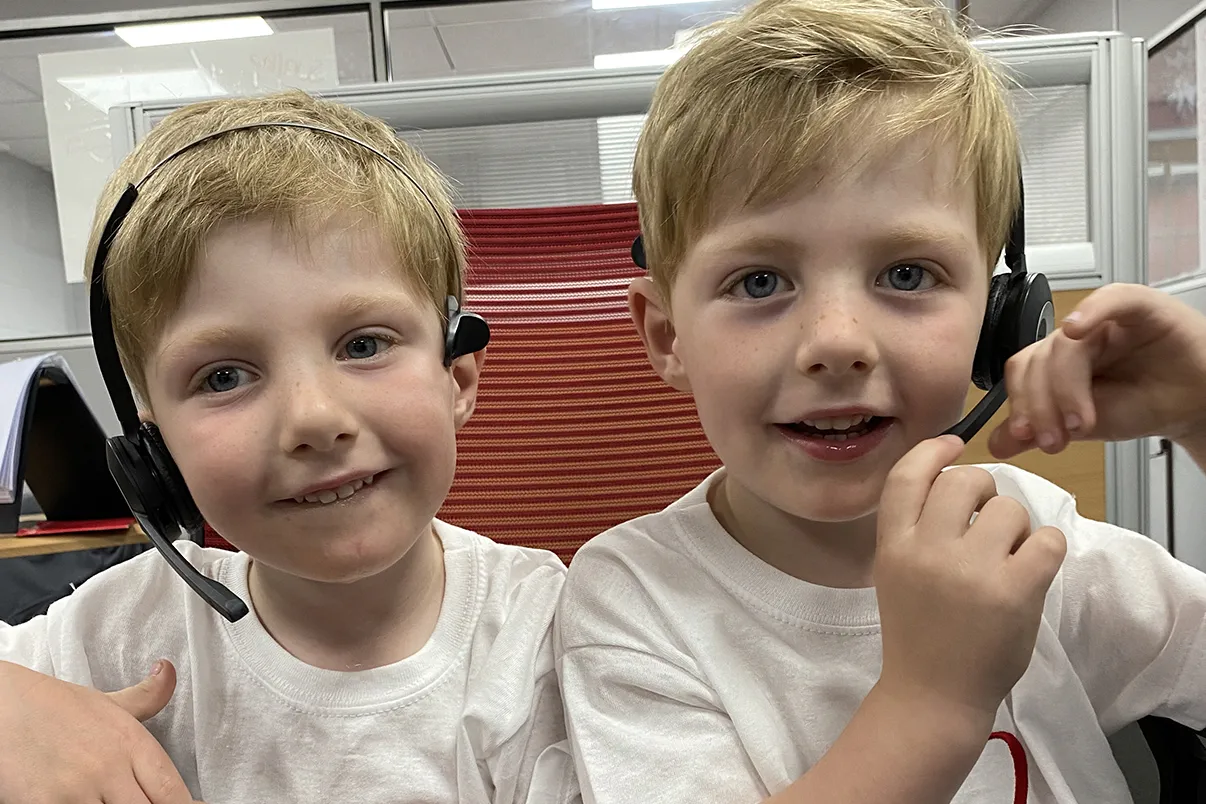 First Class Aftercare & Service
Your journey doesn't just end with us after the sale, we are by your side for the next 25 years ready to answer any of your questions. We have a lot of helpful support manuals and videos on our site too - we can even arrange a phone call or site visit with an engineer if you need the support.
PRICING FAQs
We have a whole section on our website dedicated to FAQs but here are some specifically about our prices...
What if I am buying the NEOS radiators for a business?
How much does the NEOS cost?
What are the payment terms?
Can I save money on a NEOS radiator?
Is electrical work included?
What factors influence Delivery or Installation cost?
What other additional costs might I consider?
Book a free no obligation consultation
Fill out the form below to speak with one of the Trust team to discuss your heating requirements.
*Trust Electric Heating needs the contact information you provide to us to contact you about our products and services. You may unsubscribe from these communications at any time. For information on how to unsubscribe, as well as our privacy practices and commitment to protecting your privacy, check out our Privacy Policy.