Trust The Alternative To Fischer Electric Radiators
If you're considering installing a super-efficient electric heating system, you've probably come across the Fischer brand more than once. But Fischer aren't the only German radiators available in the UK. Our customers tell us that our products are not only efficient but a highly effective alternative to their previous heating system and that as a company they feel comfortable that we are a Which Trusted Trader. Please see our Testimonials https://www.trustelectricheating.co.uk/reviews/
If you fancy a 'Vorsprung durch Technik' heating system for your home that is efficient, affordable and stylish we have the ideal alternative.
Superior Technology
Our UK-manufactured radiators boast a unique patented Quadvex technology that really sets us apart from other brands. Instead of using just a clay core (aka chamotte), our radiators use soapstone – which is a volcanic rock, that has been used for thousands of years for cooking and heating.
Thanks to its robust nature and ability to absorb, hold and radiate heat without burning or melting, our advanced soapstone technology allows us to create radiators that can deliver at least 30 minutes of heat without any energy consumption. Check an independent researcher: https://geology.com/rocks/soapstone.shtml We deliver on our energy efficiency promises.
Not only does our soapstone core differ to Fischer, our radiators are made from aluminium, which is 2.9x more conductive than mild steel https://mrindustrialservices.co.uk/steel-vs-aluminum-comparison-and-main-differences/  We also believe in ongoing research and development and to ensure this happens we work with the University of Huddersfield, who regularly test our rads against competitors in Laboratory
Please see here: https://www.trustelectricheating.co.uk/news/entry/efficient_sustainable_hea/ 
Or see here for Published results: https://pure.hud.ac.uk/en/publications/thermal-characterization-of-commercial-electric-radiators.
Inside our Radiators
Heating conductor
Soapstone core
Aluminium casting
Enamel powder coated paint
Heat radiating flutes
Convected and radiant heat
Quadvex convection
Cool-wall technology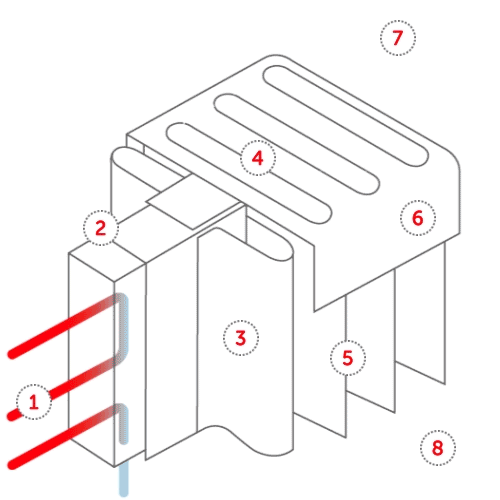 Flexible And Controllable
We provide advanced thermostat options along with the standard integrated easy-to-use thermostat and the typical Wi-Fi control that allows you to create different heating zones to reduce energy costs. A key difference, is that Trust also offer an advanced Bluetooth thermostat technology called The Radiator Buddy which includes the innovative Geo Location feature which will automatically lower the temperature when it detects that you've left home and then raise it again as you approach the front door. Also, with the backing of Innovate UK, Trust will be launching their new thermostat C.A.V.E. which is aimed at launched for the confined adults and vulnerable market. https://www.innovateukedge.ukri.org/news/COVID-funding-technology-can-cut-older-peoples-heating-bills All of our thermostats are easy to control, even up to 32 heating zones from your iOS, Windows or Android smartphone or tablet.
Peace Of Mind Warranty
Unlike Fischer, everything we sell is manufactured and made in Britain and we offer a 25-year guarantee. That is 9,125 days of guaranteed warmth and comfort throughout your home.
Transparency On Pricing
We are very aware of the mistrust within the industry surrounding pricing and the feedback we have had from recent calls show that customers have in the past been confused over differing price structures. Due to this, Trust have introduced a static rate card to ensure our domestic customers pay exactly the same as the next customer for their heating system. If you want to negotiate, we are not the company for you however, we are the company for you if you want to get a quick and accurate quote over the phone. Send us your plans or give us a call us with your sizes and we will do the rest. We are called Trust for a reason.
Don't Take Our Word For It
As a small independent family business, we're proud to be one of a select group of British businesses that are assessed, checked and endorsed by the consumer watchdog Which. And as a Which trusted trader, we go the extra mile to understand your home heating needs in a way larger companies can't match. Don't just take our word for it – our 5-star online reviews are yet another area where we outperform the bigger players.
Check them out here: https://trustedtraders.which.co.uk/businesses/Trust Electric Heating Ltd/#reviews
If you want to install electric heating that's energy efficient and drives down your heating costs then why not choose stylish and effective radiators you can Trust?
Tags: Trust Vs.